Welcome to FBC 5, where each week we share five major church wide events at First Baptist.
For more details about the following events, visit the full events calendar by clicking on the button above!
Prayer Verse for September 2022
The LORD bless you and keep you; The LORD make His face shine upon you,
and be gracious to you; The LORD lift up His countenance upon you, and give you peace.
(NKJV Numbers 6:24-26)
Awana
September 28 @ 6:30pm-8:00pm
It's Bring A Friend Night!
Awana meets on Wednesdays from 6:30pm-8:00pm in the FBC gym. The program focuses on helping kids know, love and serve Jesus. Awana is for children ages 3 years through 5th Grade (ages 3 to 5 must be potty trained!) View the weekly Awana meeting and theme schedule here.
We are also looking for volunteers to serve as Listeners for this Awana Season.
On Wednesday nights from 7:00pm-7:30pm, Listeners will guide a small group of children in reciting their Bible verses. We strongly request parents in signing up for 1-2 nights of listening within the whole Awana calendar, and welcome you to support your child(ren) and Awana in this way. If you would like to serve in this role, and/or have 
any questions, contact the 
Children's Ministry Directors, 
Sarah and Ben Jacobson, at

kids@cometofirst.com
Small Groups
September 28 @ 6:30pm-8:00pm
"And let us consider how to stir one another to love and good works, not neglecting to meet together, as is the habit of some, but encouraging one another, and all the more as you see the Day drawing near" (Hebrews 10:24-25).
Our Fall Ministry has launched and our small groups are ready to connect and grow in God's Word together! Most groups meet weekly on Wednesdays from 6:30pm-8:00pm, but meeting times do vary (we even have groups meeting on Sunday mornings before service!) 

If you are not already plugged in, you can find the right group for you here!
Our prayer is that people will get to know one another well while growing closer to God. Each group is designed to help you dig deep in the rich soil of faith to grow toward life change, knowledge of the faith, and skills for service. Group opportunities may be short-term or long-term.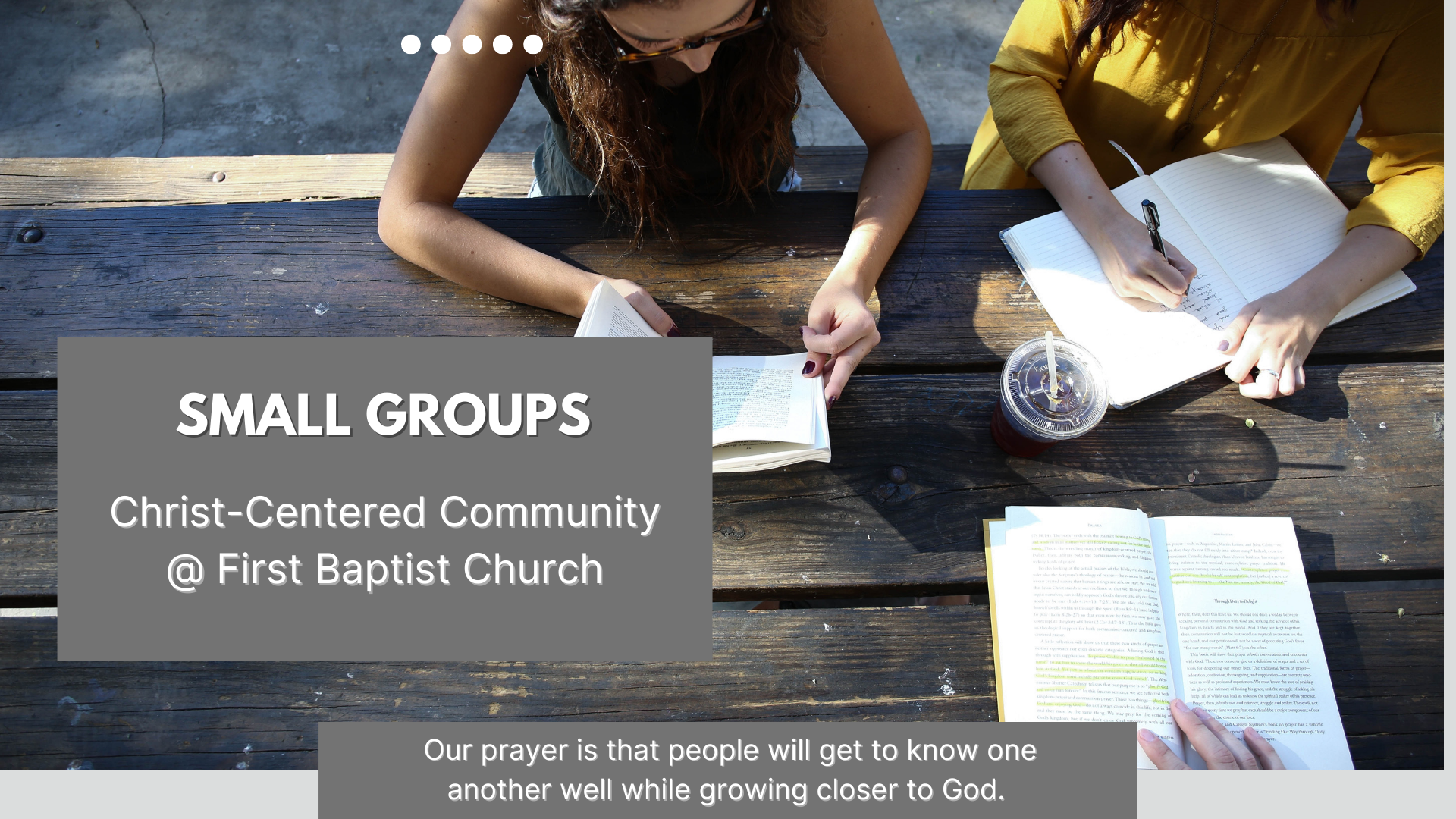 Sunday Worship
October 2 @ 10:30am
Experience God, Engage in Community
Worship with us at 10:30am at FBC! Pastor Kevin continues our Fall sermon series on the book of Habakkuk. This series will continue our objective of equipping every believer with Biblical knowledge as we also launch the first Word Workshop, a Small Group study curriculum designed to provide training in reading the Bible well, and growth in interpreting God's Word on your own. Starting with Habakkuk, we will dive deep into God's Truth to increase our skill and passion in accurate and transformative reading of the Bible. If you cannot be with us in person, please join us via Livestream at bit.ly/FBC-1002

.

Sermon note-taking is also available with YouVersion (Bible App) at

bit.ly/FBCBible-1002
Ladies Bunco!
SAVE THE DATE & REGISTER TODAY!
October 7 @ 6:30pm-8:30pm
Do you love game nights? Are you looking for a way to connect with other ladies at FBC?
Join us at FBC for Ladies Bunco starting on Friday, October 7 from 6:30pm-8:30pm!
No prior experience is needed. Bring a friend and a snack to share. The cost to play is $5/person.
To register for Bunco, visit the FBC Church Center registration page. For further questions, please contact Val Pittman at 815-508-0693.
We hope to see you there!
Nursery Training
FOR ALL NURSERY VOLUNTEERS! SAVE THE DATE!
October 23 @ 12:00pm-1:00pm
Calling all nursery volunteers! Please plan to attend our Fall Nursery Training and Refresher on Sunday, October 23 after service. Lunch will be provided.
Changes and updates are coming to the nursery — it is important that all attend!
Contact Anna Scott prior to the training session with any questions at anna.scott220@gmail.com
Thank you for serving the littlest members of FBC!