Welcome to FBC 5, where each week we share five major church wide events at First Baptist.
For more details about the following events, visit the full events calendar by clicking on the button above!
Prayer Verse for July 2022
The weapons we fight with are not the weapons of the world. On the contrary, they have divine power to demolish strongholds. We demolish arguments and every pretension that sets itself up against the knowledge of God, and we take captive every thought to make it obedient to Christ.
(2 Corinthians 10:4-5)
There's Still Time to Register for
FBC VBS 2022: Creator Camp!
God is the Amazing Creator! Without Him, nothing exists and we are made in His image to create! Your child(ren) will learn about God's artistic creation and have many opportunities to be creative. Creator Camp is July 11-15 from 9:00am-12:00pm. VBS is open for registration and to the public for ages 4-5th Grade! Reach out in your community, bring a friend, and register at cometofirst.com/vbs/
Nursery Volunteers Needed!
Are you looking for a place to serve on Sunday mornings where you can care for the little ones (ages 0-3) and parents of our church body at FBC? The Nursery needs you and the gifts God has blessed you with! Help us keep the Nursery open this summer!
What to Expect: You will be asked to serve once every 2 months (that's only 6 Sundays a year out of 52 weeks!) Men and women are eligible to volunteer. Background checks are completed and training is provided. Consider serving with a family member!
Contact Anna Scott today at anna@cometofirst.com for more information and to sign up!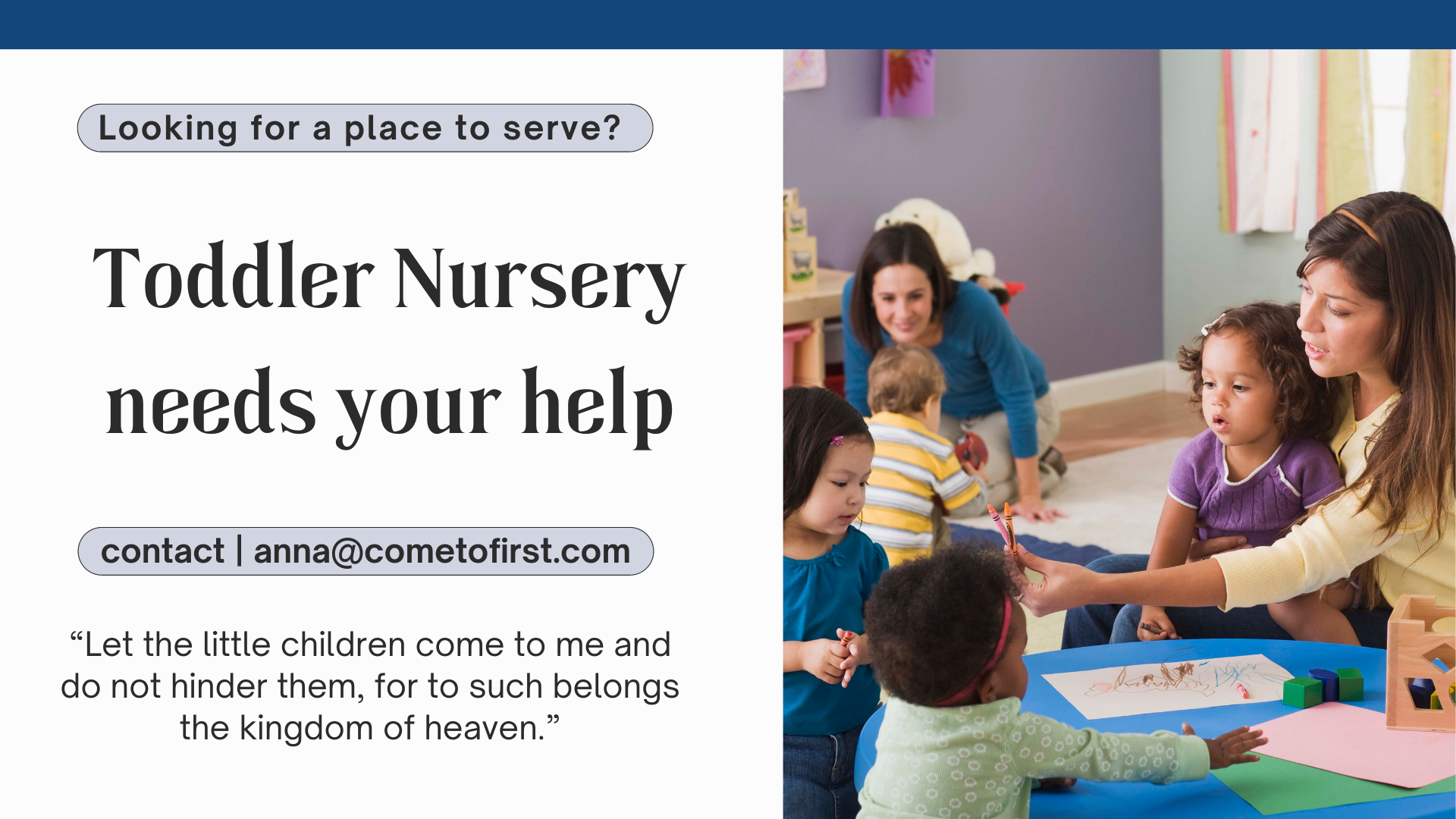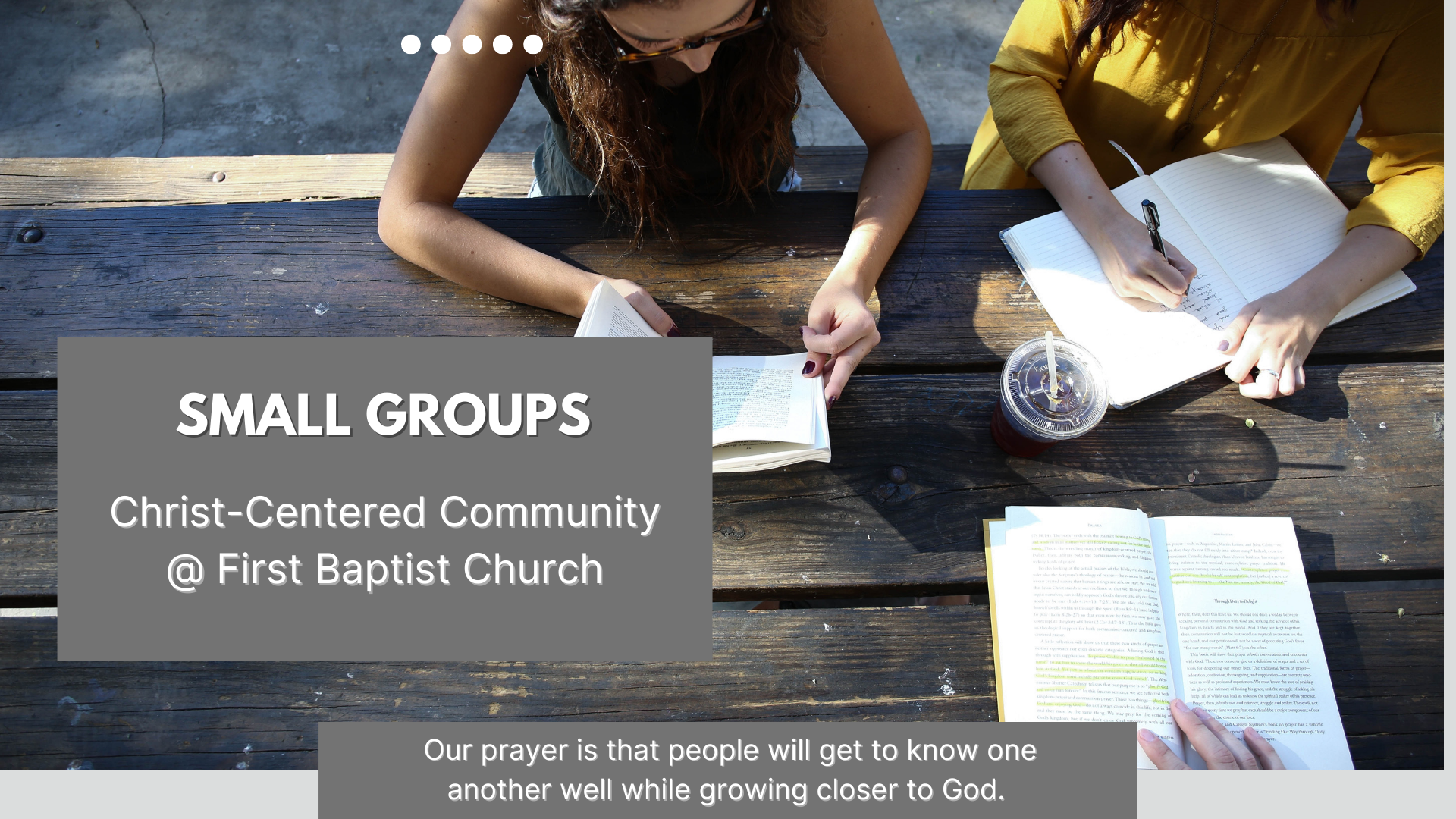 Small Groups
July 6 @ 6:30pm-8:00pm
Continue to grow this summer by getting involved in a small group!
Most groups meet weekly on Wednesdays from 6:30pm-8:00pm, but meeting times do vary.
If you are not already plugged in, you can find the right group for you here!
Our prayer is that people will get to know one another well while growing closer to God. Each group is designed to help you dig deep in the rich soil of faith to grow toward life change, knowledge of the faith, and skills for service. Group opportunities may be short-term or long-term.
Sunday Worship
July 10 @ 10:30am
Experience God, Engage in Community
Worship with us at 10:30am at FBC! Our new sermon series, "Mission [Im]Possible", continues with a message on Matthew 10:1-15.
This series is a study on Matthew Chapter 10 where we will take a closer look at how Jesus sent the disciples into the world to advance the Kingdom (evangelize), and what this means for us as believers today. Our mission may seem impossible, but, at the same time, there is perfect power that accompanies us wherever we go as we proclaim Him. If you cannot be with us in person, please join us via Livestream at
bit.ly/FBC-0710
.
Sermon note-taking is also available with YouVersion (Bible App) at
bit.ly/FBCBible-0710
FBC Portillo's Fundraiser
SAVE THE DATE!
July 14 @ 5:00pm-8:00pm
Eat out for a cause on July 14 at the Sycamore Portillo's! For every meal purchased on this fundraiser day from 5:00pm-8:00pm, a portion of the proceeds will go towards FBC's Poland missions team. Pick up a flyer
*

(or a few to share) in the lobby or access the flyer online with your mobile device at bit.ly/FBC-Portillos

*Must show flyer/use promo code at checkout to participate. See flyer for more information on applying the fundraiser to your online/in restaurant order.